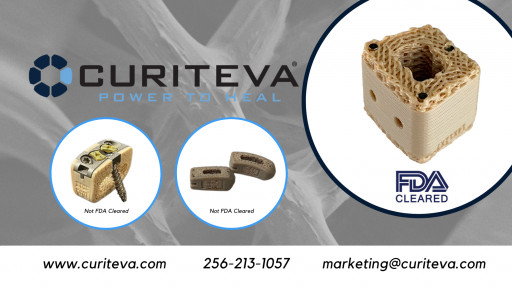 Curiteva receives newly issued patent to expand its robust product portfolio and remain the industry leader in 3D Printed Porous PEEK.
HUNTSVILLE, Ala., May 5, 2023 (Newswire.com) - Huntsville, AL based technology company Curiteva is pleased to announce the expansion of its patent portfolio with the issuance of the third Utility Patent in support of their novel Inspire 3D printed porous PEEK with HAFUSE technology. This marks the 16th issued patent for Curiteva strengthening their position as a market leader in the 3D printing of porous PEEK.
The company acknowledged two pending patent applications and plans to submit additional filings for their emerging platform. "We continue to invest in protecting our highly differentiated and pioneering technology, as we establish our proprietary commercial footprint with our Inspire portfolio. The most recent patent further differentiates us from other porous and 3D printed implant designs and broadens the intellectual property estate around our novel technology," commented Erik Erbe PhD, Chief Scientific Officer.
"Years of development and innovation contributed to this groundbreaking new industry category which we are extending into lumbar interbody devices later this year," stated Eric Linder, Curiteva's Co-Founder and Chief Technology Officer. "Establishing comprehensive market protection for our platform technology which encompasses manufacturing hardware, software, peripheral monitoring, device design and material composition is a valuable and necessary proposition."
Curiteva pioneered and received FDA Clearance earlier this year on the world's first 3D printed, fully interconnected porous PEEK structure. On April 6, 2023, just 5 weeks later, Curiteva had another momentous achievement, conducting the first surgical procedure with the Inspire 3D Porous PEEK HAFUSE Cervical Interbody System. "Once we launch our PLIF, TLIF, Static and Standalone ALIF interbody devices in 2024, this will position Curiteva to disrupt the spine market with this new category of implants," commented, Executive Vice President, Mark Mohlman.
The company plans a full commercial launch of the Inspire Cervical System later this summer.
ABOUT CURITEVA
Curiteva is a privately held technology and manufacturing company dedicated to advancing spine surgery and improving clinical outcomes by partnering with providers and suppliers to deliver innovative and intuitive implant systems to the market. Our business is founded on a commitment to building world-class manufacturing, accelerating research and development, maintaining lean operational discipline, and delivering novel technology to meet the evolving needs of our customers and the patients they serve. For more information, please visit www.curiteva.com.
Contact Information:
Kristen Kyzer
Director of Business Development
[email protected]
256.213.1057
Original Source:
Curiteva Strengthens Inspire (R) Patent Portfolio With New Patent Issued for the Novel 3D Printed Porous PEEK With HAFUSE (TM) Technology