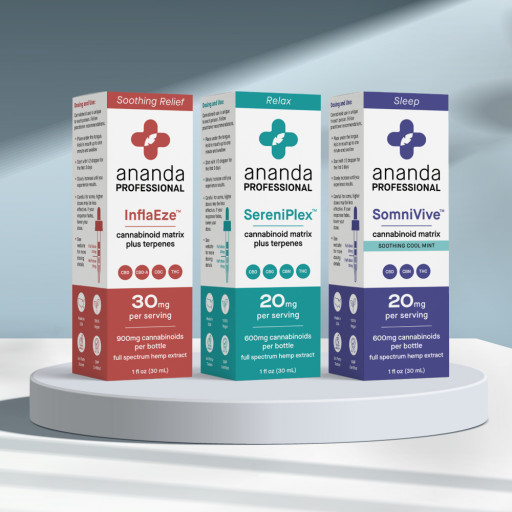 GEORGETOWN, Ky., February 6, 2023 (Newswire.com) - Ananda Professional's multimillion-dollar research program continues to lead the way in identifying novel ways to leverage cannabinoids for the broad benefits they deliver for health and longevity. A breakthrough in the research and formulation has resulted in Ananda transcending beyond the 'CBD' category and delivering an innovative range of products focused on patient outcomes with results patients can feel.
Dr. Alex Capano, who leads Ananda Professional's research and cannabinoid formulation, said, "We've always known about the importance of entourage effect - that the benefit of the whole spectrum of hemp-derived cannabinoids and terpenes is greater than the sum of its parts. Now we've been able to carefully select and control the dosages of these important emerging phytochemicals into this new breakthrough range."
InflaEze™ is formulated for natural, soothing relief with a combination of CBD, CBD-a, CBC, THC and terpenes.
SomniVive™ targets a better night's sleep with CBD, CBN and THC.
SereniPlex™ is designed to help patients relax and unwind with a selection of CBD, CBG, CBN, THC and terpenes
Phase two and three will expand the assortment over the coming months with multi-active softgel and gummy formulations for enhanced efficacy and compliance. All formulations were developed by Ananda Professional's Chief Science Officer, Dr. Alex Capano, and newly appointed Chief Marketing Officer Neal Mercado.
About Ananda Professional: Since 2018, Ananda Professional has been a pioneer in the hemp and CBD industry, with a core focus on improving patient outcomes through professional healthcare channels. Top-quality seed genetics, a team of clinical formulators and a state-of-the-art production facility make Ananda Professional the most trusted brand of practitioners, pharmacists, and patients.
Contact Information:
Chris Lee
Brand Director - Ananda Professional
[email protected]
888-388-1119
Original Source:
No Longer Just CBD - Ananda Professional Re-Writes the Category With Its New Condition-Driven Minor Cannabinoid Range