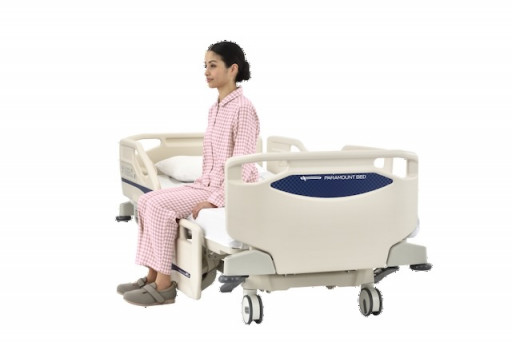 HOUSTON, April 5, 2023 (Newswire.com) - PARAMOUNT BED, known around the world for its durable and safety-first hospital beds and assistive mobility devices, chose US Med-Equip (USME) to become the exclusive U.S. distributor of its medical equipment.
USME now offers thousands of hospitals and clinicians around the country PARAMOUNT's beds, built stronger for a lifespan surpassing many others in the industry. The bed's Japanese-engineered design helps accelerate early mobility and makes preventative maintenance and repairs simple and easy.
The portfolio of top-quality PARAMOUNT equipment for sale includes the A6 Series Medical Surgical Bed and ALiUS™ Medical Surgical/ICU Bed, a sought-after low-height bed with an early mobilization tool. Both have a 562 lbs. capacity and include advanced patient features such as simple controls and buttons for ease of use, grip assists for patients to hold on to support mobility and help keep them safe, stable, and balanced when standing, and built-in USB ports to charge their phones.
Other available mobility equipment for rent includes the Sittan™ Rehabilitation Table, which promotes early, upright ambulation by helping patients balance when sitting on the side of their bed, and PARAMOUNT's walking aid, which comes with two sets of brakes for enhanced safety and an adjustable height to suit most patients. All overbed tables come with an auto or a manual-locking brake to reduce the risk of patient falls when they lean on them while getting out of the bed.
"We chose USME as our partner because of their proven record providing the best service to top clinicians and staff seeking the best equipment for their patients," PARAMOUNT BED USA President Kazuya Takahashi said. "We are excited to work with a dedicated team working from more than 90 locations, USME has the best resources and processes to best serve hospital partners nationwide."
US Med-Equip partners with thousands of hospitals across the nation for the rental, sale, service and asset management of medical equipment—diagnostic and clinical devices ranging from ventilators to therapeutic patient beds. In 2022, US Med-Equip acquired Freedom Medical, known for its beds and therapeutic mattresses with WAVE™ technology, which helps protect patients' skin from pressure injuries.
"We continue to align ourselves with the best partners in the industry to bolster support for hospital partners focused on their patients' healing," said US Med-Equip CEO Greg Salario. "As a leader in patient bed safety, quality and durability, we share with PARAMOUNT an unwavering commitment to helping healthcare heroes."
###
Contact Information:
Matthew Stanford
Communications Specialist
[email protected]
877-677-7767
Original Source:
PARAMOUNT BED Chooses US Med-Equip as Exclusive Distributor of Patient Beds and Assistive Mobility Equipment for Hospitals Across the Nation