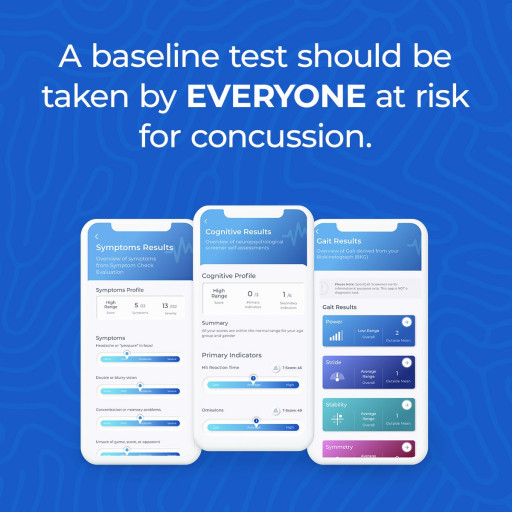 SportGait's BKG Gait technology out-predicts leading gait and balance assessments by orders of magnitude.
WILMINGTON, N.C., February 23, 2023 (Newswire.com) - SportGait, the brain wellness and medical technology company, proudly announced today the publication of an article in the Journal of Concussion validating that its patented gait technology can create biomarkers to identify and manage neurological conditions. The first-of-its-kind study tested the reliability and accuracy of accelerometer-based gait assessment data. The study found that SportGait's BKG gait method and algorithms are superior in accuracy and usability for measuring and managing concussion outcomes.
"My core hypothesis is that the way we move through space reflects our overall health status. The BKG can be used as a biomarker of disease because each condition has a characteristic biokinetic signature," said Dr. Mark Williams, MD and BKG Innovator. "I created the BKG measuring other neurological conditions like Parkinson's Disease and Stroke, and I suspected that its application for mild traumatic brain injury would be equally as effective."
In the study, data collected by the accelerometer was used to create BioKinetoGraphs (BKGTM), which are a visual depiction of a person's gait. Like the shape of an EKG waveform, the graph-like displays visually correspond to different events during a gait cycle such as the heal striking the ground or the toe pushing off of it.
"Physical, and in this case gait, biomarkers are becoming a critical component for healthcare," commented SportGait President and CEO Chris Newton. "Our team has worked tirelessly to create reliable and valid assessments and when you start looking at concussion, gait and balance are critical to measure. Our goal is to provide invaluable patient data to doctors who can use this information to improve care and, ultimately, health outcomes."
The research article was published in the Journal of Concussion in February 2023, and appears in Volume 7: 1-11. Link to peer reviewed paper The lead author and head of the multifacility research consortium, Dr. Len Lecci, Ph.D. said, "What our research has shown is that the data derived from one's gait are unique and effectively complement neurocognitive assessments to provide a more comprehensive evaluation of the possible consequences of a concussion."
The peer-reviewed paper, in part, compares predicting concussion symptom endorsements, and the SportGait BKG predicts with effect sizes 4.4 times larger than the popular Balance Error Scoring System (BESS), 2.9 times larger than the National Institute of Health's 4-M Gait Test, and 1.7 times larger than the two combined.
"It is exciting to see that a simple twenty (20)-step walking test can outperform the time-consuming disparate balance and gait assessments," Newton continued. "Dr. Mark is a visionary and well ahead of his time. Athletes and patients will benefit greatly from his invention."
SportGait, which offers a scalable platform for medical providers, sports organizations, coaches and parents, seeks to bridge the gap between brain wellness and medical technology using a best-in-class, research-backed application developed by a team of doctors and scientists focused on the field of concussion.
About SportGait
SportGait is a concussion support and recovery system that offers a scalable platform for medical providers, coaches, and parents. Their array of assessments are best-in-class and research-backed with the goal of bridging brain wellness with medical technology. The scientifically developed system aids and educates users in effectively evaluating and monitoring concussions. SportGait is a highly trusted source of medical technology, and was chosen to be the enterprise-wide standard for concussion testing for one of the top five largest hospital systems in the U.S. For more information please visit https://sportgait.com.
Contact Information:
Bethany Vietmeier
Marketing Manager
[email protected]
4127205195
Original Source:
SPORTGAIT'S BKG PATENTED GAIT TECHNOLOGY PREDICTIVE CAPABILITIES VETTED AND PUBLISHED