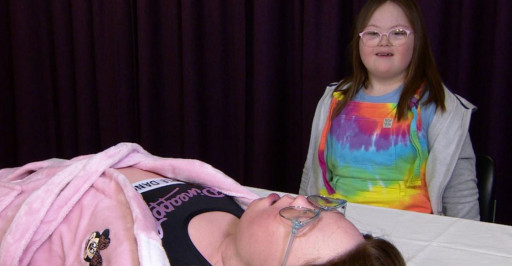 Gwen, her family and the creators of this monumental training manikin will be available for media interviews Jan. 23, 2023, 9:30am-11:30am at the Orange County Convention Center. Press passes must be secured by Jan. 17 for the Jan. 23, 2023, event.
Gwen
Gwen seeing the Gwen manikin for the first time.
ORLANDO, Fla. - January 9, 2023 - (
Newswire.com
)
Lifecast Body Simulation Global (Echo Healthcare), a leader in hyper-realistic training manikins, will debut the world's first Child with Down Syndrome training manikin Jan. 23 at the International Meeting on Simulation in Healthcare (IMSH) conference in Orlando, Florida. This realistic medical manikin was formed from a real-life 3D body scan of a seven-year-old girl with Down syndrome named Gwen and will be available to healthcare education facilities around the world to facilitate specialty and inclusive training in managing patients with Down syndrome.
Gwen was created by Lifecast Body Simulation and the University of Greenwich, which received support from the Down Syndrome Association. This debut is monumental in the world of medical education and is guaranteed to make waves at the largest international medical simulation conference held in the U.S. There is no other medical training manikin available that accurately represents a child with Down syndrome, making Gwen the first in the world. The Gwen manikin allows healthcare providers to become accurately trained on how to treat a patient with Down Syndrome. Given variations in their airway, stature and anatomy, without proper training, additional harm can be unintentionally done by medical providers.
Down syndrome is a genetic disorder caused when abnormal cell division results in extra genetic material from chromosome 21. While varied amongst patients, a few common physical traits of Down syndrome are low muscle tone, a difficult airway for intubation, smaller stature, toe gapping, almond-shaped eyes, a single deep crease across the center of the palm, smaller hands and feet - all of which are accurately represented in the Gwen manikin.
"We are thrilled to offer the world's first medical manikin focusing on Down syndrome. Children with Down Syndrome are truly amazing but also very complex to treat from a medical standpoint. Our goal with the Gwen manikin is to ensure every healthcare provider is properly trained for when they do encounter a child with Down Syndrome in their clinical practice so we can mitigate any risk and ultimately improve patient safety," says Kevin King, CEO of Lifecast Body Simulation Global.
The Gwen manikin, along with the real-life Gwen and her family, will be at the International Meeting on Simulation in Healthcare (IMSH) to meet with the local media on Jan. 23, 2023, from 9:30am - 11:30am in Echo Healthcare Booth #111. Press passes are required to enter the conference exhibit area to interview Gwen and her family, the creators of the Gwen manikin and healthcare providers. Please contact Nicole Sherk prior to Jan. 17 to secure your press pass.
Contact Information:
Nicole Sherk
Marketing Manager
[email protected]
9412330854
Press Release Service by
Newswire.com
Original Source:
The World's First Child With Down Syndrome Medical Training Manikin Debuts Jan. 23 at the International Meeting on Simulation in Healthcare in Orlando, Florida